Funded by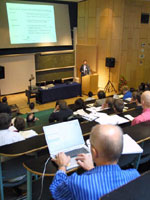 Photographs on this page
by City Image
Report on the 6th International Workshop on Digital Audio Effects (DAFx03)
Mark Sandler
Queen Mary, University of London
The 6th International Workshop on Digital Audio Effects (DAFx03) was held at Queen Mary from 8th to 11th of September this year, hosted by the Digital Music Lab of the Department of Electronic Engineering.
Over 150 people attended the workshop, making it the biggest DAFx to date. After a tutorial day on Monday 8th September and a reception that evening, the workshop was kicked off by a welcome speech from our Principal, Professor Adrian Smith. As well as keynote speeches from Juergen Herre of the Fraunhoefer Institute in Illmenau, Xavier Serra of University Pompeu Fabra in Barcelona and Tim Crawford of City University, and nearly 80 papers, there was a fabulous electro-acoustic concert at the Venezuelan Embassy auditorium in Warren Street and a banquet at Cafe Namaste.
Although the workshop is rooted in research on sound effects, presentations covered a diverse set of topics in the general field of audio and music technologies.
Although I am in a biassed position as the General Chair, I am confident when I say the event was enjoyed by everyone, and that it has helped to cement the Digital Music activity here at Queen Mary at the forefront of research in this exciting, fun and interesting research field. We now look forward to co-hosting the International Conference on Music Information Retrieval in 2005 with our colleagues at City University's Centre for Computational Creativity.
Mark Sandler
See also: