DMRN+2: Digital Music Research Network One-day Workshop 2007
Queen Mary, University of London

Tuesday 18 December 2007
Contents: Introduction | Call for Contributions | Deadlines | Poster Instructions | Programme | Registration | Venue | Hotels
News
Registration is now open (Deadline: 12:00 noon (GMT+0) Mon 10 December 2007)
Programme details are available
The Keynote Speaker will be: Gaël Richard, ENST, Paris
Introduction
Digital music is an important and fast-moving research area. Sophisticated digital tools for the creation, generation and dissemination of music have established clear synergies between music and leisure industries, the use of technology within art, the creative industries and the creative economy. Digital music research is emerging as a "transdiscipline" across the usual academic boundaries of computer science, electronic engineering and music.
The Digital Music Researh Network (DMRN) aims to promote research in the area of Digital Music, by bringing together researchers from UK universities and industry in electronic engineering, computer science, and music. Initially funded by EPSRC (2002-2005), activities of DMRN includes an annual Doctoral Research Conference series and a series of 1-day Workshops.
DMRN will be holding its next 1-day workshop on Tuesday 18 December 2007. The workshop will include invited and contributed talks, and posters will be on display during the day, including during the lunch and coffee breaks.
The workshop will be an ideal opportunity for networking with other people working in the area. There will also be an opportunity to continue discussions after the Workshop in a nearby Pub/Restaurant.
See also:
Call for Contributions
You are invited to submit a proposal for a talk and/or a poster to be presented at this event.
Talks may range from the latest research, through research overviews or surveys, to opinion pieces or position statements, particularly those likely to be of interest to an interdisciplinary audience. Most talks will be 20 to 30 minutes, although there may be some flexibility to accommodate other lengths depending on the number of submissions. Short announcement about other items of interest (e.g. future events or other networks) are also welcome.
Posters can be on any research topic of interest to the members of the network. Posters (A0 portrait) will be on display through the day, including lunch break and coffee breaks. The poster abstracts will be collated into a digest and distributed on the day, and authors will be encouraged to submit an electronic versions of posters (e.g. in PDF format) to allow the posters to be viewed after the event.
Submission
Please submit your talk or poster proposal in the form of an abstract (maximum 1 page of A4) in an email to dmrn@elec.qmul.ac.uk giving the following information about your presentation:
Authors
Title
Abstract
Preference for talk or poster (or "no preference").
Abstract submission deadline: Wednesday 14 November 2007.
You will be notified of acceptance by 19 November 2007.
Deadlines
14 Nov 2007: Abstract submission deadline
19 Nov 2007: Notification of acceptance
10 Dec 2007: Registration Deadline (12:00 noon GMT+0)
18 Dec 2007: DMRN+2 Workshop
Poster Instructions
Each poster must fit on a poster board that is 3 feet (91.4 cm) wide and 6 feet (182.9 cm) tall. However, posters should not reach down to the floor as this makes them hard to read. Posters should therefore be no more than 85 cm (33.5 in) wide and no more than 119 cm (46.9 in) tall (i.e., no larger than A0 portrait or A1 landscape).
IMPORTANT: Posters wider than the stated dimensions will not fit on the poster boards. A0 landscape is TOO WIDE.
Programme
10:30
Registration opens
Tea/Coffee
11:00
Welcome and opening remarks
Mark Plumbley, Centre for Digital Music, Queen Mary University of London
KEYNOTE
Recent advances in Digital Music Processing and Indexing
Gaël Richard, Ecole Nationale Supérieure des Télécommunications, Paris
11:50
Integra, A Composition and Performance Environment for Sharing Live Music Technologies
Lamberto Coccioli, Birmingham Conservatoire, Birmingham City University
12:10
eScore: Towards A Framework for the Composition and Performance of Real-time Notation
Christopher McClelland, Michael Alcorn, Queens University Belfast
12:30
Making Music: Proprietary or Free Software?
Chun Lee, Goto10
12:50
Buffet Lunch, Networking
Posters will be on display
14:00
Searching for similar phrases in music audio
Dan Ellis, LabROSA, Columbia University
14:20
Modeling Expressive Performance in Classical Violin
Rafael Ramirez, Alfonso Perez, Esteban Maestre, Music Technology Group, Universitat Pompeu Fabra, Barcelona
14:40
Online Music Retrieval and Searching II
Mark Sandler, Simon Dixon, Centre for Digital Music, Queen Mary University of London, Tim Crawford, Geraint Wiggins, Goldsmiths, University of London
15:20
Tea/Coffee
Posters will be on display
15:40
Applying electronic music technologies in clinical music therapy: results of a qualitative study
Wendy L. Magee, Institute of Neuropalliative Rehabilitation, London, Karen Burland, University of Leeds
16:00
Digital Media Project: Self exploiting your creativity with Open Source Interoperable DRM
Panos Kudumakis, Queen Mary University of London
16:20
The discipline that never was. Betweening: the interviews
Carola Böhm, University of Wolverhampton
16:40
Panel Discussion
17:10
Close*
* - There will be an opportunity to continue discussions after the Workshop in a nearby Pub/Restaurant.
Posters
Pierrot Lunaire and the Microtonal Worm
Nicholas Bailey, Bryony Buck, Graham Hair, Douglas McGilvray and Stuart Pullinger, University of Glasgow
Emotion Classification in Contemporary Music
Scott Beveridge, Don Knox (School of Engineering and Computing), Raymond MacDonald (Dept. of Psychology), Glasgow Caledonian University
Probabilistic models for time-frequency energy distributions
A. Taylan Cemgil, Paul Peeling, Onur Dikmen and Simon Godsill, Signal Processing and Communications Laboratory, Dept. of Engineering, University of Cambridge
ThomCat: Hierarchical Music Scene Perception with a Bayesianized CopyCat-like Blackboard System
Charles Fox, Pattern Analysis and Machine Learning Research Group, Engineering, University of Oxford
Finding tradition and innovation: a systematic performance analysis
Ju-Lee Hong, Goldsmiths, University of London
Hand Gestural Extraction of Piano Performance using UV Motion Capture Techniques
Jennifer MacRitchie, Stuart Pullinger, Nicholas Bailey, University of Glasgow
Emerging Possibilities of Harmonic Analysis
Matthias Mauch, Centre for Digital Music, Queen Mary University of London
i-Maestro: Technology-Enhanced Learning for Music with Interactive Multimedia
Kia Ng, ICSRiM, University of Leeds
Wavelet analysis of common guitar playing techniques
Mark V. Oliver, Department of Systems Engineering, Faculty of Engineering and Computing, Coventry University
A Computer Representation of Pitch Based on the Spiral of Fifths
Stuart Pullinger, Professor Graham Hair, Nicholas J. Bailey, University of Glasgow
Discriminant Approach within Non-negative Matrix Factorization for Musical Components Recognition
Zafar Rafii, Raphaël Blouet, Antoine Liutkus, MIST Technologies
Modeling and Synthesis of Expressive Performance
Rafael Ramirez, Stefan Kersten, Esteban Maestre, Music Technology Group, Universitat Pompeu Fabra, Barcelona
Effects of De-Tuning on Current Note Detection Algorithms
Caleb Rascon, Barry Lennox, University of Manchester
Evaluating musical interfaces: Beyond accuracy?
Dan Stowell, Nick Bryan-Kinns, Mark Plumbley, Queen Mary University of London
A Smart, Scalable Music Search System
Kris West and Stephen Cox, School of Computing Sciences, University of East Anglia.
Generation of multimodal music exercise objects in i-Maestro
Tillman Weyde, Kerstin Neubarth & Jens Wissmann, City University London
Towards an interactive process for the creation of ontology-based music annotation
Jens Wissmann, Tillman Weyde, City Univeristy London
Registration
A small registration fee is payable, to cover room hire & refreshments.
| | Registration Fee |
| --- | --- |
| Regular | £25 |
| Student* | £20 |
* A letter from institution confirming your student status must be faxed (or posted) with your registration form.
Places are strictly limited, and will be allocated on a first-come, first-served basis.
Registration deadline: Monday 10 December 2006.
How to Register
To Register, please download and print the Regsitration Form in one of the following formats:
Fax (or post) the completed form together with payment in full to the address below.
If you are registering as a student, please include a letter from your institution confirming your student status with your registration form.
Address to send registration forms:
Theresa Willis, DMRN+2
Department of Electronic Engineering
Queen Mary, University of London
Mile End Road
London E1 4NS
United Kingdom
Tel: +44 (0)20 7882 7513
Fax: +44 (0)20 7882 7997
[NB: Theresa Willis is currently away at present but registration forms addressed to her will continue to be collected. For registration enquiries in the meantime, please contact Matthew Davies at matthew.davies@elec.qmul.ac.uk]
Venue
The Event will take place at the People's Palace, Queen Mary University of London, Mile End Road, London E1 4NS.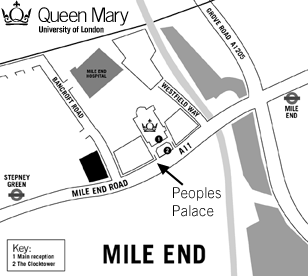 The venue is easily accessible by public transport. It is within a five minute walk of both Mile End Underground station (Central, District, and Hammersmith & City lines) and Stepney Green Underground station (District, and Hammersmith & City lines).
For travel information, see [opens in new window]:
Hotels
Suggested hotels for staying before or after the workshop:
For relative locations and travel between these hotels and Queen Mary University of London see ICA 2007 Maps.